Types of Passiflora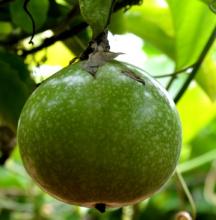 There are about 600 known species of Passiflora now found worldwide. Of the 600 species of Passiflora, in the family Passifloraceae, only one, P. edulis Sims, has the exclusive designation of passion fruit, without qualification. Passiflora edulis exists in two distinct types known as P. edulis, edulis the purple passion fruit and P. edulis flavicarpa, the yellow passion fruit. The purple passion fruit, P. edulis, is native to southern Brazil. It bears a dark-purple or nearly black, rounded or egg-shaped fruit about 5 cm long, weighing 30-45 g. The yellow passion fruit, P. edulis flavicarpa, evolved from the purple type. Fruit of the yellow passion fruit is deep yellow and similar in shape but slightly longer than the purple passion fruit. Its length is about 6 cm and it weighs about 60-90 g. The yellow form has a more vigorous vine and generally larger fruit than the purple. The yellow form has brown seeds. It has a firm, round, shiny shell. It is sometimes called sweet granadilla and is more common on Pacific islands since it will grow only in the tropics or subtropics. It is lower in acid, so that it may be eaten straight from the shell, whereas most purple passion fruit, for all their fragnance and flavour, cryout for a little touch of sugar. Another type, the giant granadilla (Passiflora quadrangularis) is also cultivated rarely. The characteristics of the three types under cultivation are given in Tables 1 and 2.
Table 1. Fruit characteristics of the three Passiflora types under cultivation

Sl. No.

Species

Common name

Characteristics

1

Passiflora edulis Sims f. edulis Degener

Purple Passion Fruit / Mountain Sweet Cup

Round to ovoid fruit (5-8 cm long and 4-8 cm diameter), purple in color with tough, waxy smooth rind and orange yellow colored pulpy juice with pleasant and sub-acidic flavored arils.

2

Passiflora edulis Sims f. flavicarpa Degener

Yellow Passion Fruit / Golden passion fruit

Round to ovoid fruit, larger in size (8-10 cm long and 4-10cm diameter) with smooth, glossy, light and airy thick (3-4mm) rind of yellow to light orange pulp having highly aromatic and acidic juice.

3

Passiflora quadrangularis Medic

Giant Granadilla

Oblong-ovoid fruit of very large size (20-30 cm long and 12-15 cm diameter) thick skin, greenish-white to pale yellow color, whitish to yellowish sweet acid arils having mild flavor.
Source: Sema and Maiti, 2006
Table 2. Physico-chemical composition of various species of ripe passion fruits

Characteristics

P. edulis

P. edulis f. flavicarpa

P. quadrangularis

Fruit weight(g)

45-60

80-115

120-480

Fruit length(cm)

3.5-6

8-10

20-30

Fruit diameter(cm)

3.5-7

5-7.5

10-12

Pulp weight(g/100g)

32-44

26-31

22-48

Rind weight(g/100g)

51-65

57-68

42-65

Juice recovery(%)

30-34

24-26

22-26

TSS(oBrix)

14-18.4

12.4-16.4

16-18

Titrable acidity(%)

2.4-3.o

3.4-3.8

2.4-3.2

TSS/Acid ratio

5.8-6.1

3.64-4.31

5.6-6.6

Total sugar(%)

5.8-8.0

5.4-6.8

4-4.8

Reducing sugar(%)

3.5-4.2

4-5.2

3-3.8

Non reducing sugar(%)

1.8-2.5

1.2-2.o

2.2-2.8

Ascorbic acid(mg/100g juice)

22-32

16-20.4

14-18

Weight of residues(g/100g)

3-5

6-12

10-15
Source: Sema and Maiti, 2006
No well-established cultivars are regularly available, so plants are customarily grown from seed or cuttings of vines selected for desirable characteristics. A form of yellow passion fruit that sets fruit abundantly from self-pollination is often grown from cuttings or seeds. Its fruit is usually smaller than that of other cross-pollinated yellow passion fruits. Seeds of large fruited selections of yellow passion fruit were brought from Hawaii and plants from this source are grown. Locally selected purple passion fruit is vegetatively propagated for commercial production.
Yellow Varieties
Brazilian Golden : Large, golden-yellow fruits, larger than standard forms. Flavor is somewhat tart. Extremely vigorous vine, requiring cross-pollination. Extra large, fragrant flowers, white with a dark center, blooming during mid summer. It Produces one large crop beginning in late August or early September.
Golden Giant: A large Yellow-fruited cultivar that originated in Australia.
Guidelines for 134P Passion fruit Multilocation testing
KSCSTE SRS on Evaluation of passion fruit types for commercial cultivation in Kerala 2012-15 Poster MLT